This is a guest blog by Frost & Sullivan
The pandemic created a long-term, sustainable impact that has dramatically changed every aspect of our personal and business lives. Video communication has become a mainstay enabling continuity and newer ways of doing work. Video is no longer used for meetings only. It is moving "from meetings to missions" and is powering applications for a variety of vertical use cases. Virtual courts are an example of how video collaboration is transforming the way justice is administered.
Today court systems across the world rely on technology in almost all aspects of their proceedings, from remote pre-trial hearings to remote jury selection and remote arraignments. They are embracing new opportunities and adopting cutting-edge technologies to address challenges that have long dogged the judiciary system. Virtual court sessions enable participants to connect from anywhere using video meetings and content sharing over a secure network and see and hear proceedings clearly and participate equitably. Hybrid hearings enable some participants to be present in court while others participate by video conferencing. Virtual and hybrid hearings have leveled the playing field for all, eliminating the physical distances and travel costs associated with traditional in-person courts, paving the way for speedier trials at lower costs, and extending the reach of justice to all equitably.
Case Backlogs and Low Participation Overwhelm the Judicial System
Courts across the world are challenged by a growing backlog of cases. Increased crime rates in many regions of the world, an expanded legal system, the inaccessibility of courts to people living in remote locations, and the rise in the number of complex cases are some factors that contribute to court delays. COVID-19 and the resulting closures and restrictions over the last two years further exacerbated this problem. A report by Thomson Reuters published in August 2021 found that the average backlog for state and local US courts increased by one-third during the pandemic. The report elaborates, "Even in the best of times, the nation's courts consistently battle case backlogs for a variety of reasons. When you add a public health crisis into that equation, it is easy to see why the backlog situation may become much more difficult to manage."
An additional challenge faced by many courts is low civil case participation rates, especially among defendants. From 2010 to 2019, more than 70% of respondents in debt collection suits across multiple jurisdictions in the United States failed to appear in court or respond to summonses, resulting in a default judgment for the plaintiff . This poses a challenge to the integrity of the court system.
The need to reevaluate how courts can increase efficiency and improve processes on a large scale has become critical.
Virtual and Hybrid Courts are Here to Stay
Remote hearings provide a unique opportunity for courts, particularly for civil and other less-complex cases, to expedite the delivery of justice. Courts can provide convenient access to the justice system using video collaboration, especially to those who have difficulty taking time off from work, lack a means of transportation, do not have childcare, or have disabilities that make it challenging or strenuous to appear in court. There has been growing acceptance and widespread public support for video court appearances since the onset of the pandemic, especially in cases like traffic tickets, consumer debt, and family court proceedings.


Applying video conferencing technology to court operations is an inevitable trend that provides several benefits. Specifically, virtual and hybrid court hearings help:

Increase efficiency – Accelerate the time to implement procedures and thereby reduce case backlogs
Reduce costs – Save on travel costs and the fewer staff needed during court sessions
Improve appearances – Reduce failure-to-appear rates
Broaden access – Extend the reach of equitable justice to all, especially for those that do not live in the same city as the court
Ensure continuity – Continue operations through times of health crises or natural disasters
Increase security – Reduce the need to transport witnesses or the accused to the courthouse, enhancing the safety of courtroom staff, legal representatives, witnesses, and defendants
Effective documentation – Enable more referenceable court proceedings records and better court session documentation with easy recordings and transcriptions
Better advocacy – Enable live chat for richer interactions between counsel, solicitors, and clients during a hearing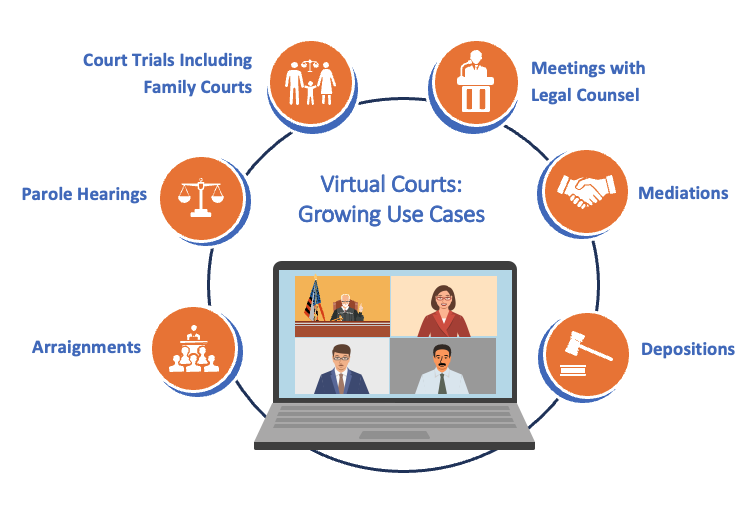 Secure, Reliable Technology Integration is Key for Virtual Proceedings
An effective virtual court solution is built on providing more than mere access to video meetings. In order to perform their best work, judges, attorneys, and court administrators need secure, frictionless experiences that are purpose-built for the judicial workflow while hiding the complexities of the technology. A robust virtual court solution must offer:
Integration with case management and other judiciary proceedings to reduce inefficiencies and redundancies
Secure connections for all devices and browsers that comply with court requirements
In-country deployment for data sovereignty, privacy, and compliance
Integration with scheduling and authentication systems
Appropriate flow that is automatically selected based on the hearing type, such as anonymized witnesses, automatic recording, and automatic streaming for open courts
Grouped personas (e.g., defense, prosecution, judge, witnesses) that allow courts to set different rights for each group and suitable permissions
Customization and full branding to increase trust and comfort level
Interoperability so users can join from any browser or device, making the process of joining remote sessions more easily adopted and efficient
Solution Spotlight: Pexip Virtual Courts
Pexip Virtual Courts is a turnkey, purpose-built court solution that simplifies, modernizes, and enhances courtroom communications and proceedings. It enables courts to improve operational efficiencies, reduce no-shows, save time, and reduce costs. Built on top of the Pexip Infinity cloud enterprise application, Pexip Virtual Courts replicates the workflow of a real-life hearing using an adaptable set of:
User roles, including strong authentication
Room configurations
Workflow automation rules
Tailored experiences, including branding and integrations for scheduling, authentication, and compliance

It leverages automation and easy-to-use features to virtualize judicial proceedings and streamline court flows, making communications more efficient, convenient, and accessible. Specifically, it is tailored to enable multiple court flows, including pre-, during, and post-proceedings.
Pexip Virtual Courts: Designed from the Ground Up for the Judicial Workflow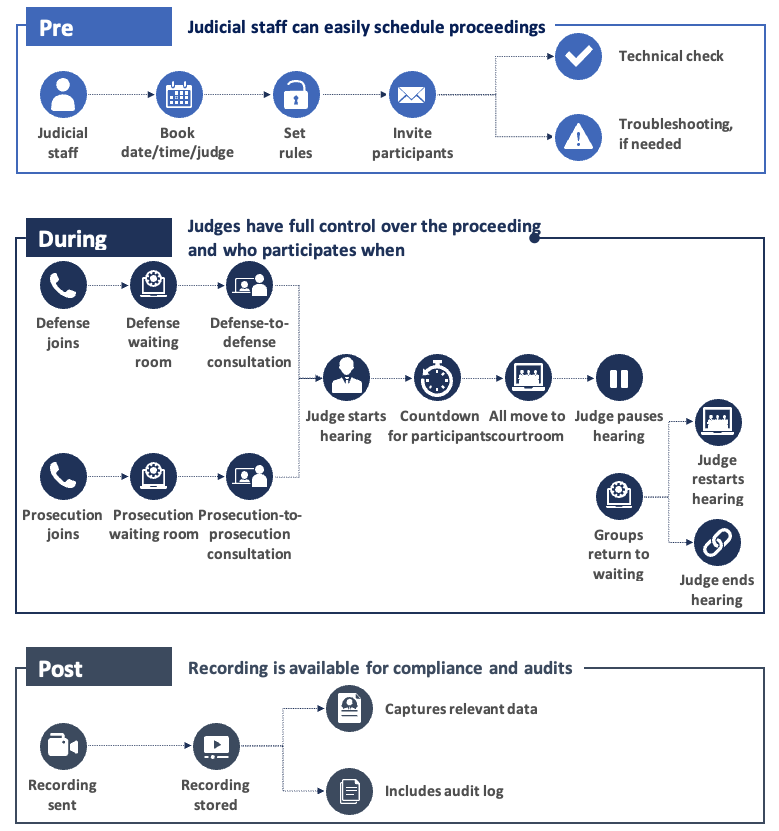 The Pexip Virtual Courts solution checks all the boxes to meet the critical needs that make a virtual or hybrid hearing successful.
Easy to use: An intuitive and consistent experience so participants can join without running into any challenges
Secure: Industry-standard encryption and security protocols to maintain privacy and security for end-user devices and all participants in hearings
Interoperable: Participants can join from any device, such as a laptop, webcam-enabled PC, browser, mobile device, or an existing courtroom video system
Customized: A comprehensive set of APIs that enable sophisticated applications and are tailored to the court systems' needs, including integration with third-party applications
Flexible: Can be delivered as a self-hosted or cloud-based service
Manageable: Built from the ground up with scale and manageability in mind

Conclusion
The past two years have revealed how video collaboration technologies can empower the justice system in new and innovative ways. Technology will continue leading the way and play an ever-growing role in helping courts maintain continuity, allow for increased attendance, lower costs, and enable speedier trials.
The democratization of video, which emerged during the pandemic, must continue. The technology decisions that court systems make now will be critical to the long-term success of how they operate and administer public services. Most of all, digitization will play a pivotal role in providing equitable access to justice, with no citizen left behind.

Topics:
Judicial
Digital courtrooms
Virtual courts