With Pexip, organizations are piloting Nvidia's real-time voice and text translation. This service can reduce costs and provide clear communication between more than 30 languages. The video below demonstrates some of the technology concepts we are currently working on with Nvidia.

With the promise of AI improving everything from everyday virtual meetings to your daily commute, organizations are announcing strategies that include AI on multiple levels – whether it's enhancing their product offerings or working more efficiently.
Video: Pexip integrates with Nvidia AI to apply gaze correction, noise cancellation and use real-time voice translation

In virtual meetings, AI both enhances the technical quality of the meeting and improves productivity. Noise cancellation, background blur, and intelligent participant framing are examples of quality enhancements. Automated transcripts, real-time text and voice translation, and action item generation are examples of AI technologies that can enhance meeting efficiency. Of course, it is the execution of those actions that will result in the desired effect, but at least there are plenty of AI tools to assist meeting participants.

Many such technologies are available in generic meeting applications, including Microsoft Teams and Zoom, and we've all become used to them. In fact, we use them every day without even thinking twice; they've become second nature and are made possible by generally available cloud services. Services shared by millions of people.
Privacy-concerned organizations require private AI solutions
A rapidly growing number of organizations are concerned about the privacy and security of their communications and Personally Identifiable Information (PII) data. Industries such as banking and financial services, healthcare and pharmaceuticals, government and defense, and countless others are either heavily regulated or have rigorous privacy and security requirements. They cannot simply use general cloud-based meeting services, let alone share detailed data from calls and meetings with generally available cloud AI solutions.

A simple example is that of having a cloud service record, transcribe, and store a meeting transcript, complete with 'who said what' in a meeting. This is a risk many organizations will or cannot take; the risk of data breach and loss of data is too high. This is a significant difference between custom developed and generic video meeting applications.
Private third-party AI integrations with Pexip
Pexip's self-hosted multi-platform solutions enable customers to keep control of their meeting and call data at all times. Some of the world's most privacy and security-conscious organizations use Pexip for these reasons – customers that include for instance governments and defense organizations.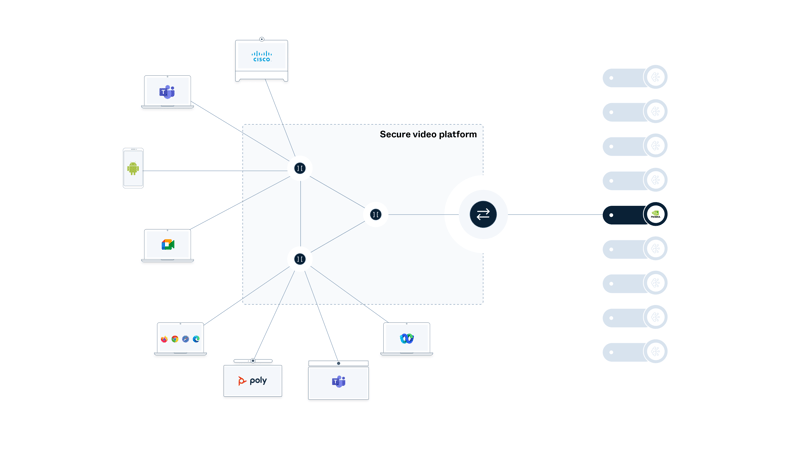 Illustration: Pexip PULSE connector

Pexip enables organizations to integrate with custom and third-party industry-specific or productivity and quality-enhancing AI in privately hosted and secure environments. These integrations then work to the benefit of everyone in the meeting, regardless of how they connect, due to Pexip's industry-leading multi-platform interoperability.

The Pexip AI-connector is a unique engagement bridge that enables secure integration with other third-party providers of AI technologies, such as Nvidia, that enhance meeting quality and productivity.

Another exciting prospect for many organizations is how AI can, for instance, optimize operational efficiencies by reducing IT costs and carbon footprint through managed usage and consumption. And of course, AI can drive intelligent monitoring and analytics, enhance security and privacy, and many other IT-related tasks when used right and in private environments. This can also be realized through Pexip.

There's no doubt, AI has a major role to play in the future of video conferencing, but it is critical that we don't lose our important security principles along the way. Right now, Pexip is working with Nvidia to identify and test ways for customers to securely integrate with external and internal AI technologies for improved quality, productivity, and operational efficiencies, without touching, sharing or processing customer or call data at any stage or in any way. The combination of Pexips expertise in videoconferencing and Nvidia's Maxine and Riva SDKs can be a game-changer for our customers.
Topics:
Meet & collaborate securely
Digital transformation
Secure meetings
Video technology platform
Secure collaboration